'Tis the season for giving! The holidays are a joyous time of year, but all too often we become consumed with the stress of gift buying. Fortunately, we are making holiday shopping easier than ever with our wide assortment of hair salon holiday gift sets. From beauty guru to au naturel, we have a gift set that is perfect for every recipient on your shopping list.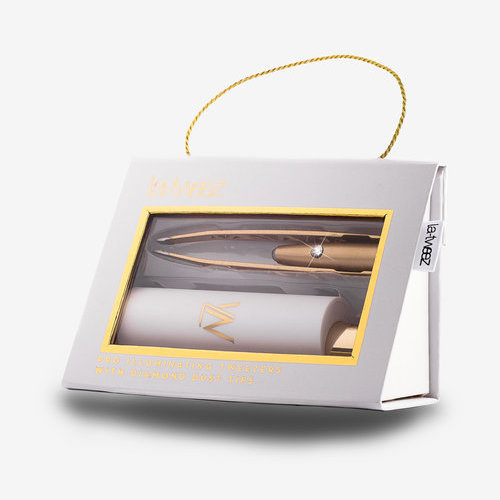 La Tweez Pro Illuminating Tweezers in White
Forget the bulky lighted mirror- plucking your brows to perfection has never been easier than with these illuminated tweezers by La Tweez. Crafted with fine stainless steel, the grip is flawless and the built-in light makes spotting every stray hair a breeze.
L'Oréal Serie Expert Vitamino Color A-OX Holiday Gift Set
This fabulous set from the L'Oréal Serie Expert line includes three products: a shampoo, conditioner and 10-in-1 perfecting spray. These products rank highly among hairstylists' favorite products and make a great gift for those with color-treated, damaged and highlighted hair. Filled with antioxidants and UV filters, this set aids in protecting the hair from the elements to prevent fading and lackluster locks.
L'Oréal Serie Expert Inforcer Holiday Gift Set
The L'Oréal Serie Expert Inforcer gift set is curated with those who have normal to fragile hair in mind. Complete with a shampoo, conditioner and a top of the line strengthening, anti-breakage smoothing cream, this set aids in improving the overall condition of the hair through a unique composition of Biotin and Vitamin B6.
L'Oréal Professionnel Serie Expert Inforcer Brush Proof Detangling Spray Holiday Ornament
Damaged, fragile hair is prone to breakage during brushing and styling. This brush proof detangling spray is applied to the hair before brushing to reduce breakage and damage. Like other products in the Inforce line by L'Oréal Professional Serie Expert, this spray combines Biotin and Vitamin B6 to reach impressive results with little effort.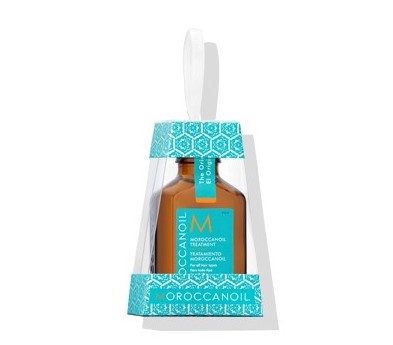 Moroccan Oil Treatment Holiday Ornament
Created in Israel, this highly renowned Moroccan Oil treatment aids in decreasing drying time, preventing tangles and restoring shine to all hair types. Packaged in a one-of-a-kind snowflake print box, all this ornament needs is a bow and it is pretty enough for giving.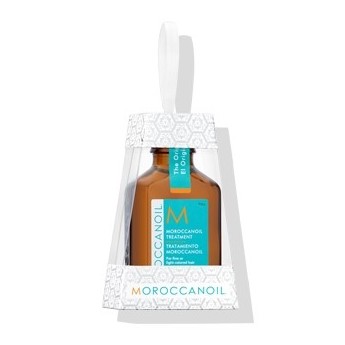 Moroccan Oil Treatment (Light) Holiday Ornament
This Morocca Oil treatment contains the beautiful, ready to gift pattern along with all of the same proteins and benefits of the original ornament but it is light enough to use as a finishing treatment.
Moroccan Oil Everlasting Holiday Gift Set
This award-winning Moroccan Oil Everlasting product line focuses on hydration for dry locks. This holiday edition set includes three products, including a hydrating styling cream, a luminous hairspray and a Moroccan oil treatment.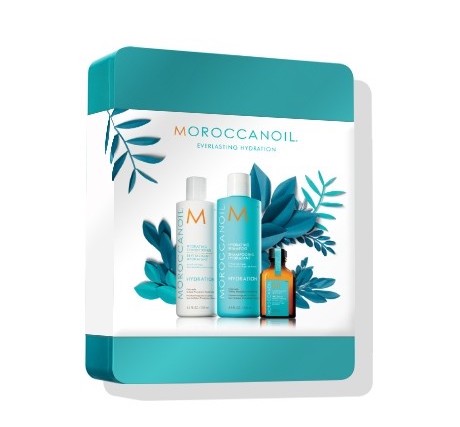 Moroccan Oil Travel Kit Holiday Gift Set Edition
Travel kits are a lifesaver for anyone who frequently travels for business or pleasure. This product is available in three different varieties to meet the needs of all hair types, including:
- DESTINATION: REPAIR Kit includes Moroccan Oil Treatment, Moisture Repair Shampoo and Conditioner and Mending Infusion.
- DESTINATION: HYDRATE Kit includes Moroccan Oil Treatment, Hydrating Shampoo and Conditioner and Hydrating Styling Cream
- DESTINATION: VOLUME Kit includes Moroccan Oil Treatment Light, Extra Volume Shampoo and Conditioner and Root Boost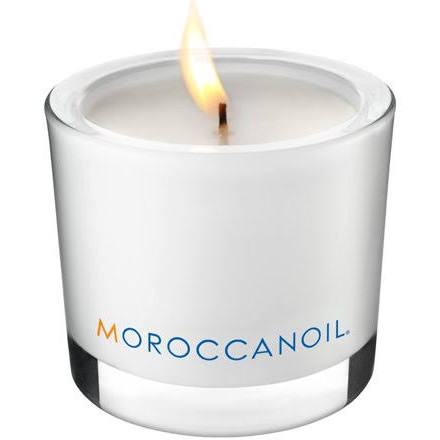 Moroccan Oil Limited Edition Spa Candle
This limited edition spa candle has a burn life of up to 50 hours and a soothing Moroccan Oil scent. The simplistic design makes it blend in seamlessly with any existing home decor while boasting an eco-friendly composition.