Goblins, ghouls and ghosts- oh my! The spooky Halloween season has officially arrived. Throughout the month of October, Halloween enthusiasts agonize over which ensemble they will sport to countless festivities. Whether you prefer to go full on frightening or simply use the holiday to dress like you're a celebrity on the red carpet, the hairstyle you chose will truly make or break your look. Get inspired with these unforgettable Halloween locks:
This adorable hairdo is ideal for any costume that elicits a sense of adventure. From zookeepers to pirates and everything in between, these loose pigtails are simple and playful. Regardless of your current length and skill level, you can master this look in under five minutes.
If you have never been brave enough to choose a bold and daring hair color, Halloween is the perfect time to unleash your inner rebel. There is no limit to the amount of temporary hair colors available at Inscape Beauty Salon. For a last minute fix, nearly every pharmacy carries colored hair sprays in October. Opt for an over the top purple, green or blue or create a rainbow effect by using several hues. These temporary dyes (or hair chalk) will wash out easily and without causing permanent damage to your strands.
Want to summon the spirit of a glamorous long haired princess? If your natural hair is already lengthy, simply visiting a natural hair salon to trim any split ends may do the trick. For those lacking the volume or length desired, hair extensions from Inscape Beauty Salon are a fantastic option all year round. For a temporary enhancement, however, invest in clip-on extensions. They are reusable and can be added to amp up your style for years to come.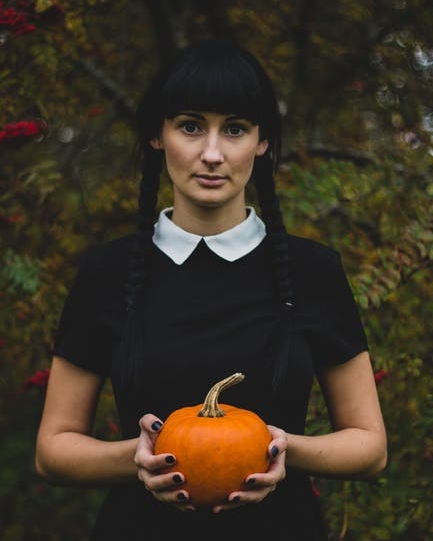 For those with brunette or natural black hair, this look does not require much effort. It is the perfect complement to vampire, zombie or witch costumes and all it requires is two basic braided pigtails. To nail the look, add white makeup to your face to create a more drastic contrast. If you're hair is platinum blonde and the thought of using a temporary dye is the most frightening thought you've encountered this Halloween, it may be best to invest in a wig. A shoulder length black wig will work best for this look. If you find you like your trip to the dark side, and later consider hair coloring from our Hair Salon located in Davie, be sure to consult a professional first.
Movie stars, models, singers- all of these personas scream diva. An elegant hairstyle is key to pulling off this dreamy look. This basic up-so looks glamorous and is as easy as putting your hair in a high bun and pulling a few pieces forward.
Let's face it- accessories are a crucial part of any costume. Headbands, hats, crowns, veils, horns and the list goes on. When deciding on your hairstyle, keep the accessories in mind. A perfectly placed accessory can elevate a look to new heights but if the addition is an afterthought, it will likely show.
So maybe your Halloween festivities are limited to trick-or-treating with the kids, child-friendly parties and raiding the kids' treats after bedtime. Busy moms, however, can take advantage of this holiday in a number of ways. It is the perfect opportunity to experiment with a new style or to convince your tween to sport that adorable mother-daughter look you've been eyeing on Pinterest. If all else fails, add a witches hat or rock your usual, functional style and declare yourself a "mombie" (mom zombie) when interrogated.