Highlight services account for over 70% of the beauty services our customers choose when coming to Inscape Beauty Salon because of our consistent & successful results. This includes full/partial highlights, balayage, ombre hair coloring techniques allowing for our customers to achieve blond hair.
In order to achieve top results, we only use L'Oréal's Blond Studio portfolio that "sets the new professional standard in lightening while respecting the condition of the hair." Additionally, in cases we feel the fibers of hair need extra protection, we always make sure to add L'Oréal's Smartbond, it's the "perfect complement to our color & lighteners and protects & strengthens the hair during the technical service."
Get inspired with our Highlights Gallery, Recommended Products & Frequently Asked Questions below:
Highlight Color Ideas:
babylights
This technique involves using a brush to apply dye in very small sections of the hair. It can be created with either a partial or full set of highlights, with a partial set giving a more natural appearance.
Honey Blonde Highlights
The trend is shifting to warmer tones. Specifically, a warm honey blonde color will be a go-to for both brunettes and blondes who are looking to add dimension with highlights in South Florida.
ribbon highlights
For those with intense curls, traditional highlights can create an unnatural appearance. With ribbon highlights, the dye follows the curl pattern instead of straightening them. This creates a remarkably organic look and perfect for those with curly strands.
Partial Pastel Highlights
Sometimes, full set of pastel highlights can be a bit over the top, so we are seeing a lot of partial pastel styles. The look can be pulled off with any base color, but this is a big hit with blondes. In most cases, the color is kept towards the ends or used to create a face framing effect.
Highlights Transformation Gallery:
Highlighted Hair Product Recommendations: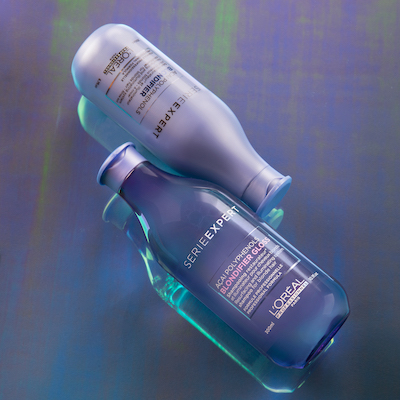 What will L'Oréal Professional SerieExpert Blondifier Gloss do for Your Hair?
- Enhances multi-dimensional shine of blonde hair
- Provides nourishment
- Helps to smooth damaged hair
- Gently cleanses
L'OREAL SERIE EXPERT Blondifier Cool Shampoo
This creamy shampoo gently cleanses and brightens the hair, neutralizes undesired yellow tones for a cool blonde effect & adds shine. It comes Polyphenols, which are present in both the Açai berry extract and purple pigments.
L'OREAL SERIE EXPERT Blondifier Conditioner
This lightweight conditioner helps to enhance the multidimensional radiance & shine of blonde hair and leaves hair soft, shiny and easy to detangle.
`Highlights' Frequently Asked Questions:
WHAT IS A PARTIAL HIGHLIGHT SERVICE?
A partial highlight is a service that applies highlights to only part of your head for a brightening or framing effect. Depending on the look you are trying to achieve, the highlights may only be added to the top layer of your hair, or they may be added to the front sections. With partial highlights, the possibilities are endless.
Partial highlights can be very natural looking and are designed to lighten the hair in a similar manner to the way the sun would lighten your hair, although a partial highlight service can be dramatic and bold as well by only placing a few, heavy highlights in one specific area of your hair. Additionally, keep in mind you cannot go '"full blond" or change color dramatically with only partial highlights because you will always have natural color on at least half of your head of hair.
Partial highlights are considered to be a low maintenance option compared to full highlights. In terms of maintenance, the main difference between partial and full highlights is that it is less obvious when your color starts to grow out if you only have partial highlights.
WHAT IS A FULL HIGHLIGHT SERVICE?
A full highlight service involves highlighting the hair in every section of your head from the nape of your neck to the hairline in your fringe and everywhere in between. Full highlights can be very heavy in nature allowing for a natural brunette to become a beach blonde, or they can be very designed to only slightly lighten all of your hair.
Many women that love the look of a full highlight will opt to alternate between full and partial highlight appointments to save money, as the highlights placed in the back of the head don't show the same growth as the highlights on the top of the head.
HOW LONG DOES IT TAKE TO RECEIVE FULL HIGHLIGHT SERVICE?
On average, a full highlight service takes up to 1.5 to 2 hours, depending on length and texture of hair.
WHAT ARE THE BENEFITS OF L'ORÉAL SERIE-EXPERT BLONDIFIER GLOSS HAIR PRODUCT?
L'Oréal Professionnal Serie Expert Blondifier Shampoo & Conditioner were created specially for blond or highlighted hair ONLY. It is advised to use these products after a partial or full highlight service in order to stop any inevitable brassiness or overly warm tones. These products were made for the client who wants to illuminate & restore their blond hair; thus extending their next highlight visit.
HOW LONG DO I HAVE TO WAIT TO WASH MY HAIR?
There is no wait time needed to wash your hair after a highlight service. You can wash your hair as soon as you need to.
HOW LONG DO FULL HIGHLIGHTS LAST?
The color change from highlighting is permanent. Therefore, your highlights will only go away as the new growth emerges.
Most people find that they need to have their highlights retouched every six to eight weeks. Since the hair grows an average of 1/2-inch per month, at the end of eight weeks you will have an average area of one inch at the scalp where the natural color is present before the highlighting color appears.
Our Customer Review Say It All