From the moment you step through the doors at Inscape, you'll understand why it is truly an experience that stands apart from all others. We believe every client that walks through the door is family and we treat them as such with the kindness and care you deserve.
Not only is our customer service unmatched, we take pride in knowing that every product is selected with the upmost care. We strive to find the best products that not only make you feel great, but nourish your body and your nails. Each product is free of the most common health hazardous materials commonly found in beauty products because we know your skin and health are worth it.
When crafting our service menu, we knew we wanted to provide the best possible experience for our clients. Not only did we want you to come into the salon and feel like family, but we wanted you to leave feeling refreshed and relaxed. This is why each service is designed to give you the ultimate luxury experience to give your skin and nails the nourishment is deserves.
Get inspired with our Gallery, Recommended Products & Frequently Asked Questions below:
Key Steps:
10 chemical free product
This technique involves using a brush to apply dye in very small sections of the hair. It can be created with either a partial or full set of highlights, with a partial set giving a more natural appearance.
Cuticle care
The trend is shifting to warmer tones. Specifically, a warm honey blonde color will be a go-to for both brunettes and blondes who are looking to add dimension with highlights in South Florida.
Arometherapy
For those with intense curls, traditional highlights can create an unnatural appearance. With ribbon highlights, the dye follows the curl pattern instead of straightening them. This creates a remarkably organic look and perfect for those with curly strands.
Gel
Sometimes, full set of pastel highlights can be a bit over the top, so we are seeing a lot of partial pastel styles. The look can be pulled off with any base color, but this is a big hit with blondes. In most cases, the color is kept towards the ends or used to create a face framing effect.
Manicure & Pedicure Gallery:
Nail Care Product Recommendations by Inscape: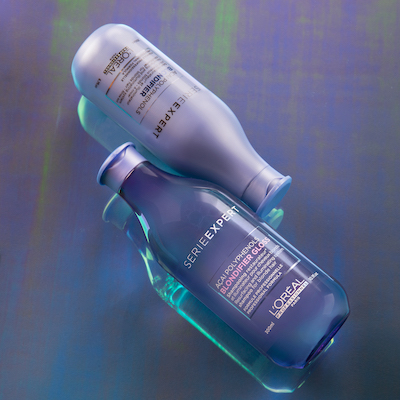 What will L'Oréal Professional SerieExpert Blondifier Gloss do for Your Hair?
- Enhances multi-dimensional shine of blonde hair
- Provides nourishment
- Helps to smooth damaged hair
- Gently cleanses
L'OREAL SERIE EXPERT Blondifier Cool Shampoo
This creamy shampoo gently cleanses and brightens the hair, neutralizes undesired yellow tones for a cool blonde effect & adds shine. It comes Polyphenols, which are present in both the Açai berry extract and purple pigments.
L'OREAL SERIE EXPERT Blondifier Conditioner
This lightweight conditioner helps to enhance the multidimensional radiance & shine of blonde hair and leaves hair soft, shiny and easy to detangle.
`Mani Pedi' Frequently Asked Questions:
How often should you get a mani pedi?
-
How bad is gel polish for your nails?
-
Are Gel manicures & pedicures worth it?
-
How do you prepare your nails for gel polish?
-
How long should you wait between gel manicures?
-
How do you keep nail polish from coming off in the shower?
-
Our Customer Review Say It All